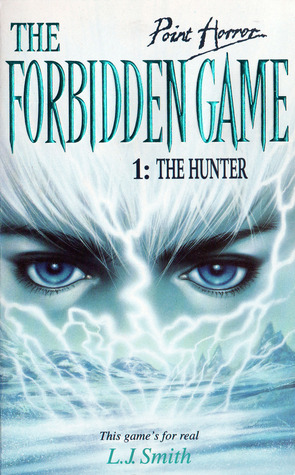 In THE HUNTER, Jenny buys a mysterious boardgame from a handsome Cyberpunk and gets sucked into the Shadowworld along with her friends.
What intrigued me:
I love her Vampire Diaries books.
Incredibly Captivating
I've said it before and I'm going to say it again: L.J. Smith knows darn well what she's doing. There's a reason both her Vampire Diaries series and The Secret Circle series got turned into tv shows. She just writes captivatingly. This isn't the first time that I've started a novel by her and noticed that the way she develops the stories makes it impossible to quit. I've had a hard time putting this novel aside and actually trying to get my sleeping cyle back on track because I just wanted to know what this all this about.
The novel is about Jenny and her friends, a bunch of high school students that just want to celebrate Jenny's boyfriend Tom's birthday and need a boardgame that they can play. So naturally goes ahead and walks into the next shop, not knowing that this is going to be a major mistake. The boardgame they're playing isn't really what they think it is: It's not a game. Something evil in the form of Julian, an unknown supernatural creature, is luring them all into their deaths by confronting every single one of the friends with their biggest fears. The boardgame directly sends them into a victorian-style mansion with every room containing a nightmare of one of the friends.
Very Structured and Easy to Follow...but Kinda Cliche
THE HUNTER is structured very linear, each nightmare leading to next. You can't possible lose track of the action and with every passing chapter it's very easy to know how far along you are in the novel. I love that and I'm a big fan of clear-cut straight-to-the-point literature. THE HUNTER is exactly this. While I do love the structure and the theoretical stuff in this, I am actually a bit disappointed with the specific nightmares. They're all very cliche (which is perfectly fine because I believe that humans all have generic fears that date back to ancient times) and solved way too easily.
Now we come to the biggest advantage and simultaneously also the biggest disadvantage of the novel: The characters. This has and will always be L.J. Smith's biggest weak spot. Let's face it: Every single one of her novels features the superstrong female protagonist that is emotional but doesn't take no shit when her family and friends are threatened. But oh, shock, there is suddenly the supersexy blue-eyed , dark kinda guy who she really shouldn't think about, but kinda does. He's a bad dude and she should stay away from him and throughout the series she will fall in love with him. So who will she choose, her nice boyfriend, who aside from being really nice, is a cardboard cutout, OR the supersexy blue-eyed hottie who will dooom her forever (but is a good kisser) ????
Overall: Do I Recommend?
All criticism aside, I really enjoyed THE HUNTER. It's extremely well-structured, maybe cliche, but overall an insanely fun read. I'm probably going to buy the sequels just because ... yeah I'm totally in love with L.J Smith's novels.
Rating:

★★★★☆

Synopsis:
"

When Jenny Thorton and her friends open the mysterious white box given to her by Julian, they discover a mysterious game and enter a house of horrors full of their worst nightmares."