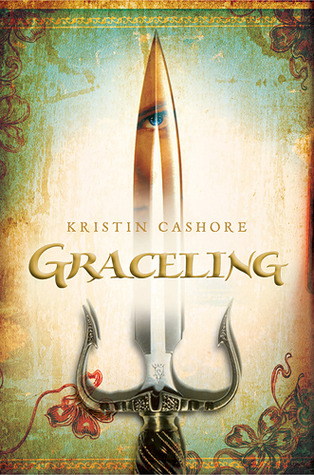 Harcourt Cover, 2008.
10. Graceling - Kristin Cashore (TV Show)
If Game of Thrones can do it, why not Graceling? Has there ever been a tv show set in a high fantasy universe with a female lead? Like, ever? Let me know in the comments if you can think of one.
9. Uglies - Scottt Westerfeld (Movie Series)
I think in this day and age it could actually be beneficial to society to get this turned into a movie series so we could get rid of all that superficial BS.
8. Hex Hall - Rachel Hawkins (Movie)
I just want badass teenage witches on screen again. How long has it been? Four score and a seven years for sure. I'd even be satisfied if you turn this into a horribly executed chick-flick like you did with Vampire Academy (RIP), that's how thirsty I am for witches.
7. Cinder - Marissa Meyer (Movie Series)
The world needs another movie series set in space and with that current trend in life-action fairytale movies this is our chance. I want the books to be made into movies and I demand a cast that's true to the books.
6. Inkspell - Cornelia Funke (Movie)
What did you say? There is already a movie? I believe you must be mistaken, I don't think there's ever been a movie, I refuse to call this piece of ... I don't even know what to describe it as. Bottom line is, we deserve a remake for this epic, epic book series and this time, please do it right.
5. Hush Hush - Becca Fitzpatrick (Movie Series)
Angels. Give me some accurately represented frighteningly beautiful angels in their own movie. You'd think there's a market for that with all that vampire stuff that's been shoved down our throats for half a decade.
4. Wicked Lovely - Melissa Marr (Tv show)
I don't think there's been a movie about faeries in ages. With exception of that god-awful fairy subplot in True Blood a few years ago of course. The world is ready for another movie series about faeries. Bring it on.
3. Starters - Lissa Price (Movie)
Razorbill Covers
It's James Bond with heels and guns. How can you say no to that? I believe there's even an online petition for it to become a movie going on somewhere.
2. Matched - Allie Condie (Movie)
Come on. Soulmate movies are never a bad idea.
1. Vampire Academy Series - Richelle Mead (TV Show, Movie Series, ANYTHING)
You saw this coming, admit it. I'm just so frustrated. How come the shadowhunters fandom gets both a tv show and a movie and we're stuck with a single shitty movie and major book hangovers?


Which Book Do You NEED to Have Turned into a Movie ASAP?
Continue Reading...