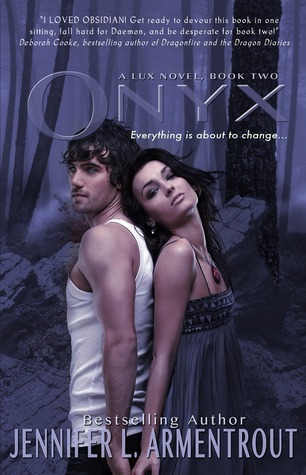 In ONYX, Katy and Daemon have to face higher powers that are having none of their crazy alien stuff. They also break a lot of stuff. And people.
Full of twists and turns!
Having established all character relationships in the first book OBSIDIAN, the plot is going crazy in ONYX. Turns out that aliens are a bigger deal than everybody thought and this novel will chase you with plot twists. Some of the things I could have guessed but I didn't think she would actually go through with it.
This novel is a roller coaster of emotions, one second you're going to find yourself laughing hysterically, the other second you're crying happy tears like it's nobody's business.
It's the end that hit me like a train and I loved how everything came together and made sense. It wasn't rushed, it was planned and it was very interesting to see the resolutions of some story lines.
Oh Love Interest, How Did I Live Before You?
Daemon is incredibly needy in ONYX. His constant emotion seems to vary between "I Know You Want It" and "TELL ME YOU WANT ME ATTENTION ATTENTION PLEASE EVERYONE LOOK AT ME". The snark and sass from the first novel is just background white noise, but I guess this is what happens to boys when they fall in love. I forgive him because I still love him.
But a thing I really have to note - Armentrout can't write entertaining action scenes. Or character placements in a room. One second they're on top of each other, the other second their limbs are all over the place. I'm having a hard time visualizing the exact positions of characters because she really messes up sometimes. This shows again in action scenes. Her action scenes are messy. Sometimes I just scanned the paragraphs because I couldn't understand who was standing where and who killed whom with what.
Overall: Do I recommend?
Obviously, if you have read OBSIDIAN you have to read ONYX. The first doesn't work as a standalone and this resolves a lot of issues that you're probably eager to see add to the story. To me it is somewhat of a transition novel though and I'm looking forward to OPAL being the real deal again.


Rating:
★★★☆☆
"Being connected to Daemon Black sucks…

Thanks to his alien mojo, Daemon's determined to prove what he feels for me is more than a product of our bizarro connection. So I've sworn him off, even though he's running more hot than cold these days.

But we've got bigger problems.

Something worse than the Arum has come to town…

The Department of Defense are here. If they ever find out what Daemon can do and that we're linked, I'm a goner. So is he. And there's this new boy in school who's got a secret of his own. He knows what's happened to me and he can help, but to do so, I have to lie to Daemon and stay away from him. Like that's possible.

Against all common sense, I'm falling for Daemon. Hard.

But then everything changes… I've seen someone who shouldn't be alive. And I have to tell Daemon, even though I know he's never going to stop searching until he gets the truth.

What happened to his brother? Who betrayed him? And what does the DOD want from them—from me? No one is who they seem. And not everyone will survive the lies…"
Continue Reading...