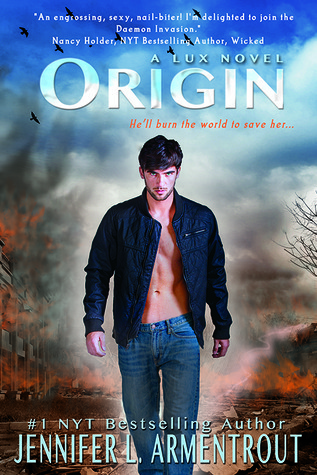 If you're going to read ORIGIN, you're going to have to prepare to be in pain. A lot of it. The novel revolves around the Department of Defense capturing our beloved protagonists Katy and Daemon, and doing all kinds of messed up tests on them.
This review MAY CONTAIN Spoilers for the Lux Series, starting from "Obsidian"
.
I usually try to keep my reviews spoiler-free but you can't write a comprehensive review about "Origin" without tackling the resolutions of the plot lines. I'm not going to mention any names but you really shouldn't read this if you plan on reading "Origin".
New POVs
ORIGIN is the first novel in the series that is told from different perspectives. This is a big pet peeve of mine and just makes me want to throw the book against the next wall. I understand that as a writer, it is difficult to describe all events that you want to put in the book when one of your characters is in a temporary exile. But just switching to another character's perspective is plain cheating to me. Besides, having read the entire series told from Katy's point of view, it's just weird to suddenly have Daemon narrate the story. First, because the character's own perception of himself is completely different from Katy's (the reader's) and also because I simply can not identify with that.
As a reader we've got to know Daemon pretty well after three books but that doesn't justify just switching the point of view. I feel like I'm reading a bad fan fiction. If POV-Shifts are essential to the story, I might endure them at times, but don't just randomly switch mid-chapter after three pages? For no reason at all? It drove me nuts to have to listen to Katy being captured and then randomly switching to Daemon running around and trying to beat up everyone.
Sorry I Killed Your Friend... Here's Another.
While the plot isn't very complex, there are a lot of revelations about the character's ulterior motives in the novel. We have some people going badside, other people dying out of the blue and new characters being pushed into future relationships. While I do like the odd sleazy villain that creeps up on our protagonists, JLA is just over the top with the plot twists in this one.
There is no actual reasoning that would make sense for that certain character to go badside. Is it just me, am I stone-cold, or were all the character deaths really, really rushed? They all died like flies and after the third or fourth one out I was just laughing because it is so ridiculous to keep killing literally everyone that won't have an interesting storyline in the future.
But when good characters have to die for the sake of a dramatic climax, we always have the introduction of new characters coming with it. I fell in love instantly with Archer, a soldier from Area 51, who is just ... heart eyes. While I do love, love, love Archer, I feel like JLA is trying way too hard to make us ship him and Dee.
Overall: Do I Recommend?
ORIGIN is not as great as OBSIDIAN but it definitely was an easier read than the previous novels.
The conclusion is a little over the top and the character deaths really weren't necessary and weren't really dealt with. Nobody is grieving for the dead to the extent that they grieved about Adam (who had like, three scenes?), and that's just ... ugh. I do recommend ORIGIN, but in order to get to it, you're going to have to go through the mess that is OPAL, and good luck with that.
Synopsis:
"Daemon will do anything to get Katy back.

After the successful but disastrous raid on Mount Weather, he's facing the impossible. Katy is gone. Taken. Everything becomes about finding her.

Taking out anyone who stands in his way? Done.
Burning down the whole world to save her? Gladly.
Exposing his alien race to the world? With pleasure.

All Katy can do is survive. Surrounded by enemies, the only way she can come out of this is to adapt. After all, there are sides of Daedalus that don't seem entirely crazy, but the group's goals are frightening and the truths they speak even more disturbing.

Who are the real bad guys? Daedalus? Mankind? Or the Luxen? Together, they can face anything. But the most dangerous foe has been there all along, and when the truths are exposed and the lies come crumbling down, which side will Daemon and Katy be standing on? And will they even be together?"
Continue Reading...