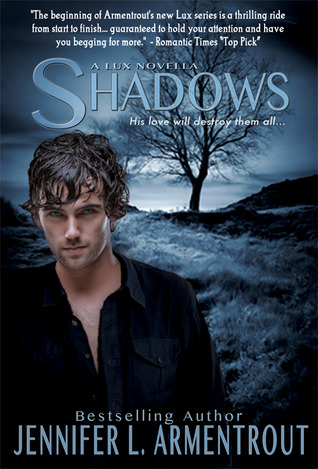 SHADOWS is a prequel novella accompanying the Lux Series. It tells the story of how Dawson Black and Bethany Williams fell in love.
What intrigued me: Judging by the fact that I hopelessley fell in love with Dawson as a character (even more than with Daemon!), I was looking forward to reading this, already after I read ONYX.
Solid back to the roots story
While the other novels where heavily stuffed with information dumps, new characters and alien trivia, we finally get a break from that in SHADOWS. It's relaxing to not have to look over your shoulder expecting another plot twist and simply just following your favorite fictional lovelies do what they do.
After having seen them mainly in distressed situations and suffering, it makes me so, so happy to get back to the typical High School Setting from OBSIDIAN, which will always be my favorite Lux novel.
SHADOWS is really only about Bethany and Dawson and I'm very thankful for that. Sadly, because it is a novella, the romance feels very rushed. The whole novel is only 150-ish pages, so there isn't much time for the reader to understand how and why they love each other.
Still Want Dee, Still Didn't Get Dee, Very Upset
Also, there is so much room for showing more of the Black Family life in this novel, why didn't she do that? I want to read about them being a family, being siblings! Why didn't she include this?
There's more of the Williams family life in SHADOWS, which I couldn't care less about, judging by her uncle's morally questionable choices and her parents and brother being cardboard cutout characters.
Bethany in general stays very flat as a characters, which saddens me a lot. She's really interesting, especially earlier in the series when she appears to be completely driven insane through torture. Wow, what a character was what I thought - well, turns out she is basically a less badass, less relatable Katy, minus the books, plus painting.
Overall: Do I Recommend?
If you've read the entire series, might as well get this one, too. Like I said, it helped me understand Daemon better, Dawson not so much. It's a nice quick read, really NOTHING out of the ordinary. I'm going to go with it's a must for Lux Fans, because it makes me want to start the entire series all over again.


Synopsis:
"The last thing Dawson Black expected was Bethany Williams.

As a Luxen, an alien life form on Earth, human girls are…well, fun. But since the Luxen have to keep their true identities a secret, falling for one would be insane.

Dangerous. Tempting. Undeniable.

Bethany can't deny the immediate connection between her and Dawson. And even though boys aren't a complication she wants, she can't stay away from him.

Still, whenever they lock eyes, she's drawn in. Captivated. Lured. Loved.

Dawson is keeping a secret that will change her existence...and put her life in jeopardy. But even he can't stop risking everything for one human girl. Or from a fate that is as unavoidable as love itself."
Continue Reading...