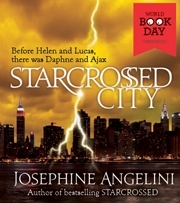 In STARCROSSED CITY, a short story prequel to the Starcrossed Trilogy by Josephine Angelini, we find out how Ajax and Daphne, "Helen's parents", meet for the first time.
What intrigued me: Having just finished the second novel of the trilogy DREAMLESS, I stumbled upon this gem and had to read it. I wasn't particularly a fan of Daphne's character in the novels, but I guess she's just written to be a very unlikeable character.
Entertaining voice and characters
In STARCROSSED CITY, Daphne is a senior in high school. The story is told from her point of view and describes her first day in a new school. The unique thing about this story is the character voice.
She talks in short sentences, describing things without trying to sound fancy and just going straight to the point. I can't tell whether I should write this off as laziness on the author's side or simply count this as adding to the character of her narrator. Daphne is just as unlikeable as in the the main series, constantly thinking about how she's superior to everyone, hating everything and just being overall very overdramatic. It's equally entertaining as it is exhausting to listen to her.
However I can't deny that I really enjoyed being led through the story through Daphne's eyes. I can't really put my finger on it, but there's something cold, calculating and vulnerable in the way she talks and describes things. You can clearly recognize her in her younger self when reading this. The story itself isn't very interesting. It's your average start of a YA novel, new kid in a new school.

Over the Top?

Daphne goes through the day having to constantly tell off people that want to surround themselves with her. The effects of "The Face" seem to hit her way harder than they ever hit Helen, her daughter in the series. The way people are frantically trying to be close to Daphne just seems over the top. She makes an enemy within five seconds for absolutely no reason and I just rolled my eyes at that. Why would anyone try to physically harm a girl that they've just met?
The worst isn't even how two girls she JUST met try to physically assault her for NO REASON, the worst is her reaction and only objection:
""Don't, Harlow," I plead, tears blurring my eyes. They don't understand. Without my hair, I'll have no way to hide my face. I'll be exposed and it'll just get worse."
Yes, Daphne, your face is so magical and beautiful that everyone will go completely nuts if you cut your bangs. Yup. I just.. I can't. I'm really glad that Angelini didn't decide to use Daphne as her protagonist in the series.

Overall: Do I Recommend?
I hoped that this story would be just about Ajax and Daphne, but it's more of a cute "and this is how I met your mom" story that doesn't lead anywhere.
Rating:
The Series:

Starcrossed City (#0.5)
Dreamless (#2)
Goddess (#3)
- See more at: http://thebookavid.blogspot.de/2015/03/review-gottlich-verloren-ot-dreamless.html#sthash.DGWlrLkG.dpuf
Continue Reading...